Bill Pearl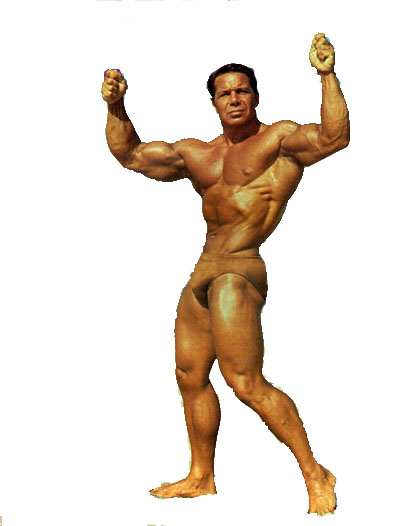 Bill Pearl Legends Page!
I'll never forget my odyssey to the 1971 Mr. Southern USA contest in Houma, Louisiana. My buddy Dusty and I were actually going to witness Bill Pearl's "last posing exhibition" in the United States before he was to compete in the Pro Mr. Universe in London, England, his last contest before retiring.
Pearl had shocked everyone with his condition at his Pro Universe win in 1967, but much had happened since that contest. There was a whole new crop of champions, including a new kid on the block, Arnold Schwarzenegger, who had won the amateur title in 1967, but since then had won the Pro Universe and the Mr. Olympia.
Just who was the BEST bodybuilder in the world? Pearl had announced a year ahead of time that he would enter the Pro Universe to decide that very thing! This would be the greatest bodybuilding event in the history of the sport with all the stars of the day competing: Frank Zane, Dave Draper, Reg Park, Franco Columbo, Boyer Coe, Sergio Oliva, and the one everyone was talking about as the best in the world, Arnold Schwarzenegger! Pearl was going to take them all on for one last contest before retiring, and I was going to get to see him only weeks before he left for England to compete.
I was flabbergasted when Pearl mounted the posing platform during that exhibition in Louisiana. He didn't look human! He looked like a Greek god descended from Mt. Olympus to let us mere mortals worship divine perfection! He was huge, tanned, ripped, and the most symmetrical big bodybuilder in the world! On top of the great physique, his posing was the best I had ever witnessed. It was obvious Pearl had done his homework and was ready to take on the best. In fact, after seeing this exhibition, I was convinced that Pearl would beat everybody except maybe Schwarzenegger. Arnold had made so much improvement that I thought the winner between those two would depend on who peaked just right. Both men were so incredible and beyond the others of that time that I thought it could go either way. Unfortunately, we will never know because Joe Weider didn't let Arnold compete. But Bill defeated Frank Zane and Sergio Oliva, two bodybuilders who had previously beaten Arnold, as well as every other bodybuilding star that appeared that night.

Sergio Oliva, Pearl and Park in the 1971 Mr. U.
Bill did retire, but over the years he has continued to shock people with exhibitions from time to time and continues to train daily in his personal gym in Medford, Oregon.
| | |
| --- | --- |
| | Can you believe the look of hero-worship on Richard's face when he met Bill Pearl in 1971 right before Bill won the Pro Mr. Universe? |
Bill's fans should check out his great Web site by clicking here.
ORDER BILL's BOOKS:
Bill's Contest Wins:
Mr. Southern California 1953 Mr. California 1953
AAU Mr. America 1953

1953 NABBA Mr. Universe

Pro Mr. USA 1956

NABBA Pro Mr. Universe 1961

NABBA Pro Mr. Universe1967

NABBA Pro Mr. Universe 1971
MY FAVORITE PHOTOS OF BILL:
Bill at 56 years of age in 1985.

© 1985, Chris Lund
Magazine Covers:
| | |
| --- | --- |
| IronMan 7/53 | Strength & Health 9\53 |
| Muscle Builder 2\54 | IronMan 1\55 |
| Muscle Power 4\55 | Reg Park Journal 5\55 |
| IronMan 3\56 | Muscle Power 4\56 |
| Strength & Health 6\56 | Reg Park Journal 7\56 |
| IronMan 9\57 | Strength & Health 7\61 |
| Muscle Builder 9\61 | IronMan11\61 |
| Strength & Health 12\62 | IronMan 6\63 |
| Muscular Development 2\64 | Strength & Health 2\65 |
| Muscular Development 4\66 | Muscle Training Illustrated 3\67 |
| IronMan 1\68 | Muscular Development 3\68 |
| Strength & Health 3\68 | IronMan 7\69 |
| Muscular Development 11\69 | IronMan 11\71 |
| Muscular Development 12\72 | Muscle Training Illustrated 1978 August |